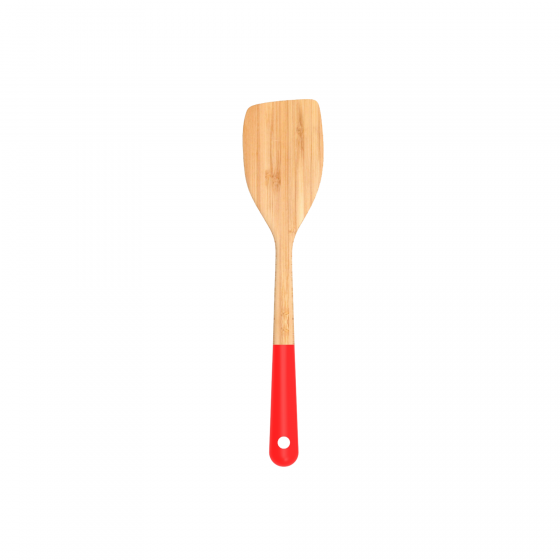  
Spatula 30cm – red
The spatula is a kitchen utensil that can be used every day to make your favorite recipes. This is why Pebbly wanted to offer a solid bamboo kitchen spatula that allows you to free yourself from plastic utensils.
The Pebbly bamboo spatula is made entirely of natural bamboo. The spatula can be used every day to cook easily and quickly, scraping the bottoms of containers, turning food, mixing sauces and when serving preparations. Aesthetic and modern, the handle of the Pebbly kitchen spatula is half covered in a colorful paint that is suitable for contact with food. This pop of color brings cheerfulness to any kitchen. The design of the Pebbly spatula will easily adapt with your other utensils and kitchen interior. The Pebbly bamboo spatula is easy to maintain and can easily be cleaned with a wet sponge.
Pebbly has chosen bamboo as the primary material in most of their creations. It is a material that adapts perfectly to culinary use because of its many qualities. It has the advantage of not damaging the non-stick coating of pots and pans. As a result, the Pebbly spatula can be used on all types of coatings. Utensils made from solid bamboo are designed to last over time. It is highly resistant to humidity and will not absorb the odors or tastes of your preparations. Additionally, this plant offers ecological advantages, because it can grow quickly, without the need of excessive amounts of water.
Our selection