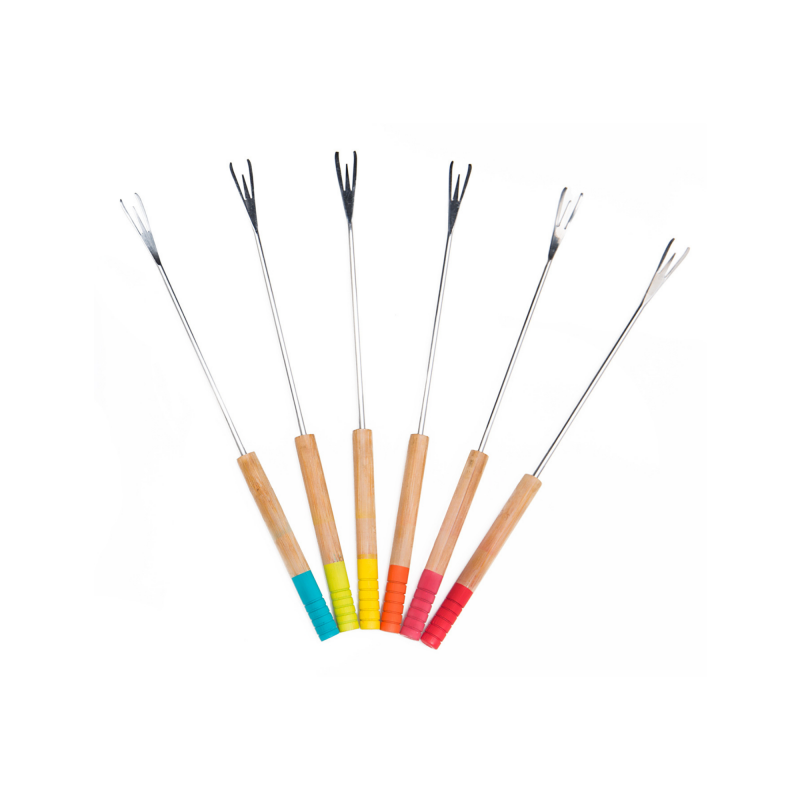  
Set of 6 fondue sticks – multicolor
Whether Savoyard, Burgundian, Chinese or even chocolate, fondue is a comforting and homely dish perfect for meetings with family and friends!
Pebbly offers you a set of 6 colored fondue sticks to revolutionize your fondue experiences on your winter vacations.
For a colorful and unique tabletop aesthetic during your fondue evenings, Pebbly has designed fondue sticks composed of a small stainless-steel fork and a natural bamboo handle covered on its half with a colored paint (suitable for contact with food). The combination of bamboo and color brings a warm and friendly feel to your table and is adaptable to any interior design. Each stick has a unique color, enabling each dinner guest to easily identify their own utensil. Practical and functional, the mini fork tip allows you to easily grab a piece of bread or meat without dropping it into the fondue. Additionally, the fondue sticks won't damage the coating of your fondue dish!
Is your friend a cheese-fanatic? The Pebbly fondue set of 6 is a great gift to delight fondue lovers when winter arrives. This set can be easily paired with other more classic fondue sticks, making them the perfect addition to add a pop of color to an existing set!
Stainless steel is a hygienic material which is easy to clean and has excellent long-lasting properties. The bamboo in the handles of the fondue sticks is harvested in the Fujian region near the bamboo forests in Eastern China. Bamboo is an incredibly water-efficient plant, growing quickly without the need for fertilizer. It can be harvested up to 5 times a year. Each Pebbly creation is made in fully certified workshops, in which the bamboo is shaped by hand.